Karen & Michael Wedding Dance Program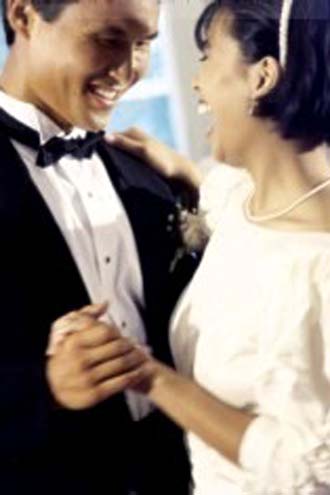 Preparing for your first dance? Karen and Michael help you look and feel great for this special event even if you have never danced before. They give you everything you need to get off to a great start. Karen and Michael can help you choose a song, edit your music to just the right length and tempo, create your dance and teach you to dance, coach you and your wedding party in basic dance moves and prepare you in every way to be comfortable and confident for this significant event. We can create just the right wedding dance choreography for you.
Custom Designed for Your Needs
Look and Feel Great for Your First Dance
Have Fun and Build Confidence
Learn to Dance from Certified Instructors
Additional Tips on shoes, clothes, dance floors and music.
Frequently Asked Questions
Click Here for answers to frequently asked questions.
We really like the dynamic between Karen and Michael. Karen explains how things are supposed to feel and Michael explains the technical details. They are both patient and encouraging and make us feel very comfortable. We look forward to each lesson. Itís not like taking wedding dance lessons, its like having fun with friends.
Your Costs May be Tax-Deductible
Tax Deduction may include some or all of the following: Wedding Dance Choreography and Lessons, Live Music, DJ, Video, Clothes, Hair, Catering, An Original Song. Click here for more information about tax deductions that might apply to your wedding.
Commission a choreography for your first dance and receive tax-deductions. Original As You
Let's Get Started Package
Includes: 1st dance lesson, consultation, tips on wedding dance songs, clothes, shoes, dance floors and how to make preparing for your dance easy and fun.
Quick First Dance Package
Three 50 minute dance lessons with a simple plan for the dance including an entrance and exit.
Custom Packages
Specifically designed for your needs by Karen & Michael. Can include help choosing music and dance, dance lessons, choreography, a dance workshop for your wedding party & performance preparation.
Contact Us At: info@karenandmichael.info and info@karenandmichael.info for more information.
Unsolicited Reviews Posted Yelp and Esty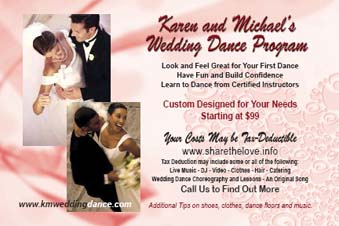 * "We really like the dynamic between Karen and Michael. Karen explains how things are supposed to feel and Michael explains the technical details. They are both patient and encouraging and make us feel very comfortable. We look forward to each lesson. Itís not like taking wedding dance lessons, its like having fun with friends."- Eleen & Jimmy
* "We were really lucky to find Karen and Michael to work with us for our wedding dance. They were good teachers who moved at our pace, answered questions as we went, figured out when we needed them to slow down and break things down even further for us. We ended up getting their help with the choreography too. Our dance was pretty complicated (Viennes Waltz) and our dance floor was really small; they were really willing to think through the best use of what floor space we had, especially considering our experience level, and also did their best to make us look good for our first dance. My fiance was curious about learning to ballroom dance but his experiences before Karen and Michael weren't great. After their class, he says he definitely feels more confident and comfortable learning new dances because he now has a solid foundation of the basics. Besides being really great teachers, Karen and Michael are fun to work with as well; we laughed a lot in our lessons, which was much needed on days the dancing was challenging." - Jim and Rina
* "Everyone loved our dance. This has been such a wonderful journey. It made it all very special. I get teary-eyed just thinking about it." Susan and Richard
* "Our first dance was great! we learned our dance after 7 lessons, by then we were really comfortable. They were super flexible when my schedule was super tight and patient with my now husband and I. Everyone said that it was a great dance and many clapped. We surprised them! BTW we were really bad dancing with each other until we took their lessons! Oh and we learned in a month to dance beautifully to Stand By Me." ~ Ann D.
* "With zero dance experience or talent, we hired Karen and Michael to help us choreograph a first dance for our wedding. Their teaching style was fantastic. They were able to instantly assess our dancing ability and teach at a speed that we both felt extremely comfortable with. After learning some basic steps, we soon progressed with confidence to some more complex moves and it wasn't long (maybe four or five lessons) before we had the basic structure of our dance sketched out. After ten weeks of dance lessons, we were able to dance to our wedding song with a confident swagger that we were able to reflect on the day and we owe it all to Karen and Michael. Not only were they able to teach us patiently and with extremely clarity, we found ourselves having a ton of fun throughout the process, which is saying something given that we were such novices at the beginning of the process. We would highly recommend working with Karen and Michael if you looking to find a way to surprise everyone at your wedding with your first dance. You won't be disappointed. "~ Heather
* "I found Karen and Michael on the internet when searching for private dance lessons in preparation for our daughter's wedding and we are so glad that we did. We immediately made a connection. We found them to be patient, flexible and fun! They really focused in on what we needed and could do in the time that we had. Not only were they able to transform us from a couple of "non-dancers" into a couple not afraid to get on the dance floor, but they also provided DJ services and worked with us to put together a fun reception at our church after the wedding. "Dad" was so comfortable on the dance floor, "daughter" was so very impressed -- and mom had the benefit of dancing every Friday night as we practiced. Everyone, had a great time at the reception. I highly recommend Karen and Michael's event services and for dance lessons. " ~ Donna C.
* "I chose Karen and Michael after reading the lone review on Yelp to help my boy and I learn a dance for our wedding day. We worked with them for approximately 2 months. I was very skeptical at first, not sure if they were going to be able to help us since I am very uncoordinated and can't dance AT ALL. We arrived with a song picked out and after hearing it, Karen showed us a few styles of dance that would work for the style and pace of the song. We picked one and after a few lessons decided that we'd change the style altogether. Karen and Michael were very patient and accommodating to our learning styles and after a several weeks they were able to help us establish a routine. Our wedding dance turned out amazing and all of our family and friends were impressed (and surprised) that we could dance so well! " ~ Jennifer P. (The rest of this and other reviews can be found on yelp.)
Other Services
Mobile DJ and MC Services for your Wedding Reception
Karen and Michael can also provide you Mobile DJ and MC Services for your wedding reception. See Mobile DJ Services for Weddings.