Reprint from Open Exchange Magazine Oct/Nov/Dec 2008 Issue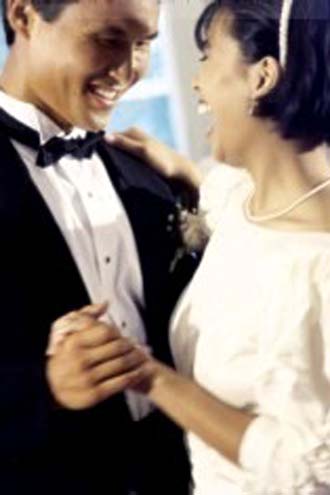 Video Your Original Partner Dance and Support The Arts!
By Kyrsten Bean
Preparing for your first dance? Dance instructors Karen Lile and Michael Arntz help you look and feel great for this special event even if you have never danced before. They help you choose a song, edit your music to just the right length and tempo, create your dance and teach you to dance, coach your wedding party in basic dance moves and prepare you in every way to be comfortable and confident for this significant event. Karen and Michael offer wedding dance choreography and lessons in OPEN EXCHANGE's Dance category.
Richard and Susan, a Bay Area couple, started taking beginner dance classes from Karen and Michael in April 2008 to prepare for their wedding dance. They wanted their first dance to be unique and classy. After the wedding in August, Susan commented on how much everyone loved their dance and said, "This has been such a wonderful journey. It made it all very special. I get teary-eyed just thinking about it."
Richard and Susan's dance is now available for other students to learn and perform in a local dance showcase which the public can enjoy. And the video clips from their wedding will be included in a music video for TV next year. The cost of the choreography and videography was tax-deductable for Susan and Richard because they commissioned the dance and videography through a non-profit organization.
Like Richard and Susan, your original wedding dance can be a source of inspiration and actually support the Bay Area art scene. "Sharing the Love Project" connects personal needs with public needs, spreading connections between individuals on a community level. In this program, a wedding couple can commission a dance, be the first to perform it, and because they choose to do this through the Sharing the Love Project, the choreography will now be available for other dance students who don't have the means to hire their own personal choreographer, but want to perform a dance for the public in a student showcase. The public gets to attend this event, which is partially subsidized by the original dances commissioned by wedding couples during the year. In effect, sharing your choreography makes you a patron of the arts!
"Partner dancing builds positive connections between diverse people in the community who might not otherwise come together.... It's by meeting and spending time with people that we become committed to improving the community because we care about the people we know," says Karen Lile. This project is a call for individuals to become patrons of the arts by fashioning something for themselves, and then releasing it to the greater good.