Karen and Michael Home Page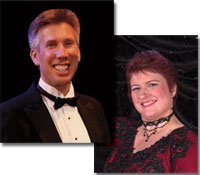 Welcome to the Karen and Michael Website.
Karen and Michael bring Gift of Partner Dance to All Ages
from Open Exchange Magazine January 2009
No matter what your age or skill level, Karen and Michael can teach you to dance so that you are confident and feel great on the dance floor. Karen and Michael's students range in age from 9 to 95. Karen and Michael have developed programs throughout the San Francisco East Bay that bring the joy of dance to all and bring groups of fun people together to learn and socialize. For entire article Click Here.
Give the Gift of Dance!
Within one business day, we can email you a gift certificate for private or group dance lessons with Karen and Michael. These can be redeemed anytime during the next year and are a great gift.
Dancing is not only a great way to exercise, it is a skill one can master and have fun with at parties, special events, weddings, and for personal enjoyment. There is a dance party in the San Francisco Bay Area every night of the week, so once you get your basic skills of lead and follow, there is always a place to go and dance. Giving the gift of dance lessons, is something that is not only a fun experience for the person you are giving it to, it will benefit them for years to come. For more info see Gift Certificates
Ongoing Dance Classes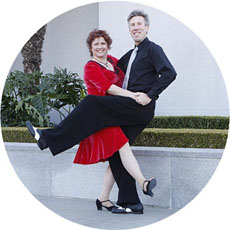 Want to get started in partner dancing? Join one of Karen and Michael's ongoing group classes. Find the day, time and location that works best for you and join our fun group of students who come together to learn to dance at each place. Look at the links on the right column of this page for specific classes available in the dance styles Karen and Michael teach in ongoing group dance lessons.
Wedding Dance Program with Karen & Michael
Preparing for your first dance? Karen and Michael help you look and feel great for this special event even if you have never danced before. They give you everything you need to get off to a great start. Karen and Michael can help you choose a song, edit your music to just the right length and tempo, create your dance and teach you to dance, coach your wedding party in basic dance moves and prepare you in every way to be comfortable and confident for this significant event. Click here for more info: Wedding Dance Program
Video Your Original Partner Dance and Support The Arts!
from Open Exchange Magazine October 2009
Richard and Susan, a Bay Area couple, started taking beginner dance classes from Karen and Michael in April 2008 to prepare for their wedding dance. They wanted their first dance to be unique and classy. After the wedding in August, Susan commented on how much everyone loved their dance and said, "This has been such a wonderful journey. It made it all very special. I get teary-eyed just thinking about it." For the entire article: Click Here.