Give the gift of Dance Lesson Gift Certificates with Karen and Michael!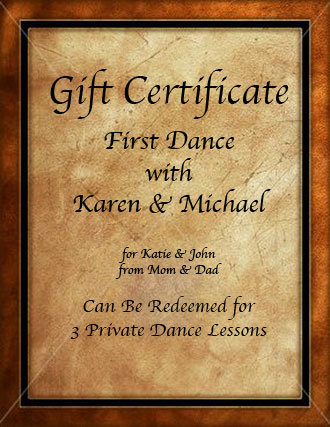 Dancing is not only a great way to exercise, it is a skill one can master and have fun with at parties, special events, weddings, and for personal enjoyment. There is a dance party in the San Francisco Bay Area every night of the week, so once you get your basic skills of lead and follow, there is always a place to go. Giving the gift of dance lessons, is something that is not only a fun experience for the person you are giving it to, it will benefit them for years to come.
Karen and Michael teach both group and private lessons for all levels of dancers from the absolute beginner to the advanced dancer.
Buy your gift certificate online and we will email you a gift certificate. Gift certificates are personalized. If you have any questions about which gift certificate would be the most appropriate, give us a call or send an email and we will help you choose the best one for your need
First Dance Lessons
Want to give a really special gift to your fiancee, family member or friend? Buy a first dance package to help them prepare for their first dance.
Karen and Michael can help any couple look and feel great for this special event even if they have never danced before. The packages below can give the wedding couple everything they need to get off to a great start. Karen and Michael can help them choose a song, edit their music to just the right length and tempo, create the choreography and teach them how to dance, coach them and the wedding party in basic dance moves and prepare them in every way to be comfortable and confident for this significant event. For more info, see: Wedding Dance Program. Package options are listed below:
First Dance Package Descriptions
Let's Get Started package $85

Includes: 1st dance lesson, consultation, tips on wedding dance songs, clothes, shoes, dance floors and how to make preparing for your dance easy and fun.

Quick First Dance Package $245

Three 50 minute dance lessons with a simple plan for the dance including an entrance and exit.

Classy First Dance Package $400

Five 50 minute dance lessons with a choreographed beginning and end and sequences of patterns for the middle of the dance. Includes a dip and picutre lines.

Choreographed First Dance Package $750

We provide you with a complete start to finish choreography, matched to your chosen song and dance lessons to teach it to you. Ten 50 minute sessions included choreography and dance lesson time customized to your needs.
Private Dance Lessons
Private dance lessons are a great way to rapidly improve your dancing. With one on one instruction, your teacher can help you improve the look, style and feel of your dancing in a way that group classes cannot accomplish. Because your teacher has the opportunity to dance with you and/or coach you and your partner, you get exactly what you need in the way that you learn best. We can help you accomplish goals customized for your needs. We co-teach, so you get the benefit of two teachers for the price of one. We teach in Oakland, Richmond and Walnut Creek by appointment.