Absolute Beginner Ballroom Dance Program with Karen and Michael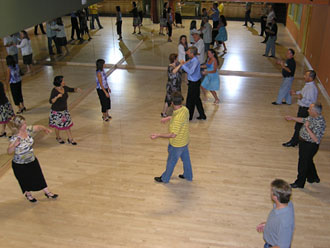 Learn 10 Partner Dances
Want to get started in ballroom, salsa, Rueda de Casino, Tango or swing dance? Karen and Michael's Absolute Beginner Program is the place to start. The Absolute Beginner Program is designed to start to students at the beginning (never having danced before) and and bring them up to an Intermediate level through a combination of private lessons and group lessons.
Group Classes
The progressive series will give you a good foundation. You will learn many dance figures and the character, styling, rhythm and technique of the dance. You will also learn how to lead or follow, to connect with your partner, to combine figures and to navigate the social dance floor.
We create a safe and supportive environment for you to learn and have fun in. The pace is just right and you will be there with others who are also learning for the first time.
Karen and Michael, directors of the Absolute Beginner Program.
Private Lessons
Karen and Michael teach private lessons as a team. If you don't have a partner, either Karen or Michael can dance with you as you learn. If you come as a couple, you can see Karen and Michael demonstrate the both roles simultaneously, which can really help you understand what you are learning. We teach 6 days a week and can schedule an appointment that will match your schedule.
Private lessons can:
Accelerate your learning, 3- 4 times faster than group classes because individualized lessons focus on what you want to learn at the pace you learn best
Give you thefull attention one on one and immediate feedback from professional teachers who understand both roles
Help you feel how technique works instead of just listening and watching in group class.
Allow you to learn at your pace and ask any questions in a discreet environment.
Teach you to lead or follow and the technique to make it look and feel good
Be customized at times that fits your scheduling needs.
Allow you to make up missed group classes.
Give you hands on instruction addresses partnering techniques, body mechanics and stylistic details in all levels of dance.
Private classes provide an ideal learning environment for dancers (or aspiring dancers) at any level. They can help a shy person develop confidence on the dance floor, or speed an experienced dancer's transition to the intermediate or advanced level. They are a great way to develop closeness with your significant other or enjoy the process of learning with a friend.
Student's Testimonials
I didnít really believe my husband could dance. But, after the first class with Karen and Michael, we were both dancing and having fun. I canít wait for the next class.
~ Janet
I like Karen & Michael so much, I have been bringing my friends and family with me too. Karen and Michael can teach ANYONE to dance, because they donít assume anything, and they explain and demonstrate so clearly.
~Wendy.