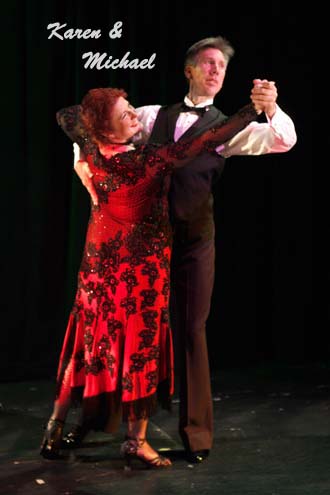 Kendall Ross Bean
.
Ballroom Dance with Karen and Michael
Karen and Michael's Most Recent Newsletter
Wednesday Tea Dances with Karen and Michael
1st Wed of the month from 12:30-3:00pm with a Dance Lesson at 1:45pm
Lafayette Senior Center
Enjoy afternoon Tea Dancing and Light Refreshments with Karen and Michael on 1st Wednesday of the month in the spacious Live Oak room and learn some great new dance moves too. Karen and Michael will provide a dance lesson and live DJ services, playing your favorites and taking requests. Come for great music and good company. The Tea Dance happens every week, but Karen and Michael will only be there the 1st Wed of the month (except if the first Wed of the month falls on Christmas or New Years Eve or Day).
LCC: Live Oak Room

Lafayette Senior Center

500 Saint Mary's Road, Lafayette, CA 94549

925-284-5050
Karen and Michael Performance with Joe Escobar Quintet
Wednesday Noon. March 12th and October 8th, 2014.
Rossmoor's Noon Show in the new Performing Arts Center will feature a live music and dance show featuring the Karen Lile & Michael Arntz dance performances with a live band.
Joe Escobar Quintet: Website
Karen and Michael have been teaching, performing and DJ partners since 2005. They teach and perform Argentine Tango, Salsa, EC and WC Swing, Lindy, Waltz, Foxtrot, Cha Cha, Bachata, Hustle, Nightclub Two-Step and love to bring the joy of dance to audiences and students of all ages.