Karen and Michael Mobile DJ Services
We Get the Party Started
Whether everyone already knows each other, or your group is bringing together people who haven't met, we know how to get the party started and motivate people to dance and have fun the whole time.
We Play Great Music
We choose the best music for each section of your event. Whether it is background music for dinner, dancing music, or that special song for a First Dance or a performance, Michael plays great music on our superior Bose sound system to support the theme and purpose of your event. Michael will take requests during the event. If you want to be sure we have specific songs, let us know in advance. See our decades music list for popular music from each decade from 1940's to present. Decades Music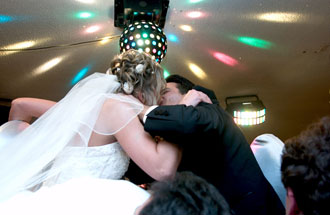 We are Responsive to your Needs
You know your needs and purpose for the event. Karen, our event planning specialist, can give you ideas and options to help you accomplish what you desire to do and to help establish the flow and how to handle transitions seamlessly throughout the event. She has more than 20 years of experience planning events. We know this is your event and you want it to a certain way. We can help you use our resources in the ways that support you the most.
The Dance Lesson as Entertainment
Karen and Michael are fantastic. Before the party started people were saying they weren't sure if they were going to dance. But Karen and Michael got everyone up and dancing right away with their demo and dance lesson. The party was a great success. People really had fun all night long. We really loved the party and have had some very nice and genuine compliments!!

~ Cecile Moorad, Delta Yacht Club
Sometimes, a dance lesson is a great way to start a party. If you have chosen a particular style of music for the event, there are usually partner dances we can teach to match. We motivate people who don't know how to dance to come out on the dance floor where they can learn something easy and new in a fun way. This usually starts out the party with a bang and gets people moving to the music, socializing with each other and enjoying themselves.
The Dance Performance as a Showcase
Sometimes you will want to have a dance performance sometime in the middle of the event, as entertainment or to support a theme or purpose.
Weddings
For weddings, this might be the first dance, the father daughter dance, the dance for bridesmaids and grooms. We can choreograph, teach you how to dance and help you prepare for this special performance as well as MC the live event and provide you everything you need to look great out there on the dance floor.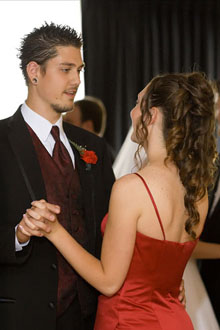 Special Events
For special events where professional entertainment is desired, we can perform or demonstrate various partner dances, including tango, swing, salsa, waltz, foxtrot, hustle, cha cha, nightclub two step and many others.
Our Style
We believe that this event is about the people you have invited. As a DJ, Michael focuses on providing the music, taking requests and making sure everything works well. Karen is the catalyst to motivate people to participate and MC important announcements and moments throughout the event.
Music Library
We have an extensive music library, covering 1920's to 2000's for your needs. We have a great Mobile sound system and our team of professionals can provide lights and live video projection as well.
Lights and Live Video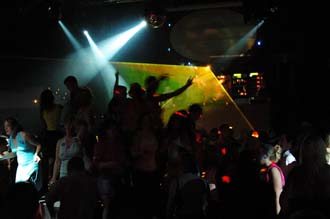 We work with a team of vendors who can provide lights, large screen projection, live video feeds, plasma screens and special effects.
Groups of All Ages
Whether your group is all the same age group, or a diverse mix, we can provide music and entertainment that helps people have a good time and feel comfortable with each other.