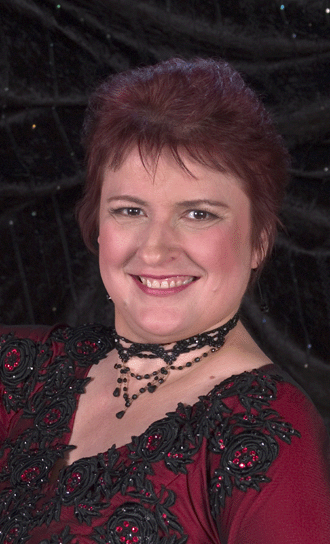 About Karen Lile and Dance
Bio
Karen Lile has been dancing and performing since 1977. She is accomplished in many styles of dancing, including Argentine Tango, Ballroom (International & American), Salsa, Lindy and West Coast Swing. Karen Lile is a co-creator with Ted Ross of the new dance Foxtantino. She shares her joy of dancing with students and helps them look and feel great on the dance floor. In addition to teaching dance, she is gifted at helping dancers to reduce their shyness, overcome anxiety and to develop confidence in social, performance and competition situations. Her 30 years of experience in the performing arts as a Television producer, Theatrical Director, Public Speaker and as a Business Entrepreneur contributes to her ability to help dancers accomplish their leisure and career goals in a variety of areas.
Karen Lile and Michael Arntz are dance partners and co-teachers. She is certified with high honors as a professional dance instructor through ProDVIDA.
Karen Lile Speaks about Dance
I approach dancing from a place of pleasure and interest. Dance captures the essense of life and connection to others through the emotion and language of movement. It springs from the soul and radiates from inside ourselves to expand throughout the reach of our influence. It brings people together of all backgrounds and promotes communication and meaning where language alone cannot reach.
As Dancer
Dancing for me is a form of self expression of my joy in living. I began my study of dance in college in 1977. Since that time, dancing has been a passion that I have carried with me and is as much a part of me as breathing. I fully expect to be dancing until the day I die.
I have studied dance with enthusiasm for many years. These studies have included college classes in American Ballroom Dance, choreography, modern dance, jazz and ballet. I began a serious study of Argentine Tango, Salsa, West Coast Swing, Ballroom and other partner dances in 1995 and have been learning and practicing these dances from 14 to 25 hours per week since that time.
I have taken too many private lessons to count, attended workshops, performed, improvised and choreographed.
As a Teacher
I began teaching in 2006. To me teaching is an opportunity to share my love of dance and to unlock my student's potential for enjoyment and mastery. I believe that every person has the potential to discover the dancer inside of themselves. It is my privilege to share the knowledge I have gained with my students and the time passes pleasurably me when I am teaching.
I am very comfortable in the community of teachers in the Bay Area. I often work with other teachers on various projects and have no problem referring my students to teachers who can help them in an area I cannot. I also coach students in performance and dramatic skills in a way that does not conflict with their regular studies with another teacher. I have always found that if I believe that there is plenty of everything to go around, their always is. So, a student need never feel embarrassed to consult me about their desire to work with other teachers. I will support my students in whatever goals they desire to achieve, even if it doesn't always mean they will be taking lessons from me.
As Performer
I have been performing since 1977 in shows, showcases, in the theatre and as a speaker and entertainer. I have been performing as a dancer since 1995. I see performance as an opportunity to give the gifts of my heart to an audience. As a performer I hope to inspire people to enjoy life, love, friendship and dancing in their own lives by showing them how I enjoy these things myself.
Karen Lile and Partner Dance Communities
One of the things I appreciate about the Partner Dances I have listed below is that each one of them has a unique community of dancers, with its own culture, styles and ways of approaching dance. When I am in one of these communities, I devote myself fully to that dance and group, giving myself to what it has to offer.
Below is a list of partner dances that I have been dancing on a regular basis since 1995. I love each of these dances. As far as proficiencies, I am at an advanced level in most of these dances. I improvise with my dance partners in both lead and follow and am familiar with the popular figures, patterns and styling of today and earlier eras.
I have catagorized the dances below by the names that each dance community calls itself. For additional information see: About Karen Lile.
Tango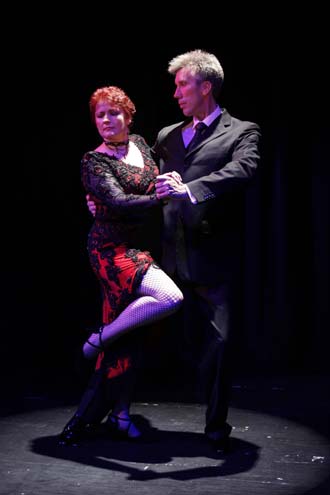 What I love most about Tango is its emphasis on connection, improvisation and musicality. When you have the right partner, and the music inspires you both, you move as one on the dance floor, giving and receiving movement and musical interpretations with fluidity, accent and the emotion of the moment. It is truly a transcendent experience.
Tango is a dance with deep roots in Buenos Aires, Argentina. When I began dancing it in 1995, the Milongas in the San Francisco Bay Area were primarily sponsored by and frequented by dancers and teachers from Argentina. Today the Tango dance community has grown to include dancers from many different cultural backgrounds. I frequent traditional Milongas as well as those that feature Alternative Tango styles.
The other dances that are usually grouped with Tango are Milonga and Vals, both of which I enjoy.
Lindy
What I love about about Lindy is, well the swing! The music inspires syncopations, improvisations and whatever other crazy thing comes to mind. Lindy comes straight from the joy place in my soul like a child let loose in a playbox full of fun stuff.
Lindy is the grandfather of all swing dances. There are many different styles of Lindy, including Savoy and Hollywood style. I dance them both, adapting to my partner and the music. I also enjoy Balboa and BalSwing.
Ballroom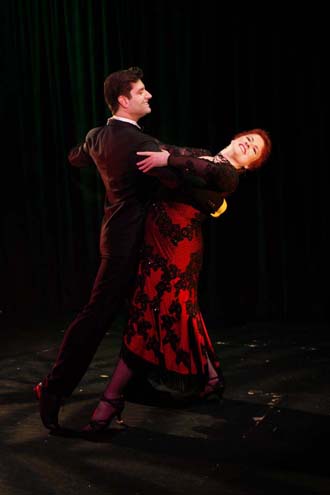 What brought me to Ballroom dance was my desire to teach. I think that Ballroom Dance, of all the dance forms, has perfected the art of teaching beginning non-dancers how to dance and move their bodies in ways they never did before. And, ballrooms provide open and friendly communities, where beginners and first time attenders can ask and be asked to dance in the spirit of learning and friendliness. I love the mix of music and the ability to move from one style to another in the same night.
Ballroom dance Organizations have established curriculums which include a syllabus with set figures and terminology. This is what the teachers use as as a reference so that dancers from all over the world can meet for the first time and know the same dances.
This page has a list of the my proficiencies in ballroom dances. .
Why did I learn syllabus figures?
I look at a syllabus as an important part of learning ballroom dance.
I appreciate the work that has been done in defining a common vocabulary and applying analytical skills to the description of the dance.
I see value in incrementing students from level to level, as is done in the syllabus.
As a leader, the syllabus is a point of departure for me into realms of improvisation that I am interested in.
The syllabus gives me an understanding of the dance figures many other dancers are familiar with and have studied.
Fusion Partner Dances
The Foxtantino is a delightful new dance created by Ted Ross and myself, that combines the elegance of Ballroom Foxtrot with Argentine Tango romance. For more information on this dance, click on Foxtantino.
Salsa
Those hot Latin beats, clave and tight rhythmic percussion bring out the fire in me. I enjoy the many styles of Salsa, and most especially that which springs from my own improvisation in the moment with a partner who plays. But, I can even dance Salsa alone in my dance studio and be happy. There is so much to work with in the music. I also dance Merengue, Cha Cha Cha, Rumba, Cumbia and some Bachata.
Rueda de Casino aka Salsa Rueda
Rueda de Casino, also known as Salsa Rueda is a favorite of mine, and Michael and I have been co-teaching in this dance style since 2007. It creates a sense of family and everyone is included. And it develops good lead and follow skills and awareness of the group. It is fun, and connected to an International group of Rueda de Casino teachers all over the world
West Coast Swing
West Coast Swing, the cool rhythm and blues, sexy and funky and playful and serious dance. It may have come from Lindy originally, but it definitely exists in its own groove today.
I also enjoy the other dances that are generally grouped with West Coast Swing are Night Club Two Step, Cha Cha Cha, Hustle, Country Waltz and Country Two-Step. I dance the first three dances at an advanced level and the last two dances at a beginning level.
My Philosophy about Dance
Dance expresses who we are through our bodies and connections to others.
We can respect the traditions of others, but retain the right to be ourselves. We can learn a dance community's use of movement, gesture, vocabulary and values for the purpose of communicating who we are.
We don't need to throw away old ways of doing things each time we learn something new. Instead, we can see how the past connects to the next thing we learn, improving our skills and thinking, no matter how diverse our experiences. Each form of dance and pedagogy has something valuable to contribute to the vocabulary of movement, connection and expression.
There are many ways of teaching and learning that are valid.